Back in the day, when I took my first faltering steps along my own career path, I wanted to be like the big guys.  Well, you do, don't you?  You see what they have – the big cars, the sleek mobile phones, the sharp suits, the trappings of their success – and you say to yourself "that's where I want to be".  And although most of my peer group were more interested in having their very own hot Personal Assistant – the filthy perverts – it was the thought of having a big, lavish office that did it for me.
I wanted that big desk.  That massive leather chair.  That huge window with the distracting view.  That filing cabinet with a bottle of whiskey and a couple of glasses secreted away in one of the drawers.

A mobile business.
But, here we are in the twenty-first century.  I'm a Third Millennium Man now.  Times have moved on.
We've got such amazing modern communications nowadays.  Quit whining about your connection speed just for a second and have a reality check.  You can now enjoy a face-to-face chat in real-time with someone, who happens to be on the opposite side of the planet.  You can watch last night's television while you're on the train.  While abroad, you can speak a phrase into your mobile phone, and your phone will translate your words aloud into the local language for you.  Back in the day, all this was science fiction.  You can now board an aeroplane, take your pulse or pay for your groceries, with just your mobile phone.
And you can even run a profitable business from your mobile phone too.  I should know – I actually do.  So who needs that big office any more?  Let's face it, many of us have usually got our phones in our hands throughout the day.  So why not use it to make some money?  We'd all rather be out and about – okay, lazing around at home sometimes – than be at work.  So let's look at a few ideas of how it's possible for you to work absolutely anywhere, using your mobile phone or a GSM-equipped tablet.
First though, a few caveats.
This article is about running a business fom your device; setting up your business in the first instance may require the use of a, ahem, proper computer.
Secondly, this article is just to give you some ideas, some notion of what's possible.  It does NOT CONSTITUTE BUSINESS ADVICE and you are advised to do some proper research before you waste any of your own money as Third Millennium Man accepts no liability whatsoever for any losses.
Thirdly, be prepared if you cannot access your online business from outside of your own country, as some entities (such as eBay) have built-in security to prevent this from happening as a measure against fraud.
And last of all, we're aware that not all businesses can be run from a mobile phone.  For the purposes of this article, a 'business' is defined as a legal and legitimate activity that generates an income.  Just read through to the end and then Comment if you've got anything you'd like to add.
Without further ado…..

Forex Trading.
You know that bit on the evening news where they mention how well the Stock Market did today?  Followed by how well the Pound has done against the Dollar?  If you can work out how well that exchange is going to do tomorrow or over the coming days and you're prepared to put your money where your mouth is, it's possible you can make a LOT of money.
'Forex' is just a short way of saying 'Foreign Exchange', and can include any two currencies (the Pound against the US Dollar, the Pound against the Euro, for a couple of examples).  This one is probably one of the easiest businesses you can run from your mobile phone.  Once you're aware of what you're doing (from all the training videos and eBooks you've read on the subject, using your mobile phone of course) it's easy enough to set up an account with a Trading Platform, and that's pretty much everything you need.
We at Third Millennium Man really like Etoro as an entry-level platform.  It's free and easy to join (as long as you're outside the USA).  You can test how good you are with $10,000 of pretend money before you commit any of your own cash.  There's a Social Media aspect which we really like, so you can pick the brains of more experienced and successful Traders.  And you can even set things up to directly copy the big, money-making guys.  Etoro is our Trading platform of choice here at Third Millennium Man and we wholeheartedly recommend it.
Yes you can do the same with Stocks and Shares from your mobile.  That will require a larger chunk of your day, typically, and five hours into your first day, you're going to wish you were staring at your laptop instead.
We've seen regular guys who only 'work' as Forex Traders for one or two hours a day, and make an absolute packet.  £30,000 a day is not exactly unknown.  And while these chaps are speculating with sums that would make your eyes water, it's possible to deal yourself into the game with as little as £500.  Your first deal might be as little as £10, gradually building up as your confidence grows.
BE WARNED: there are serious risks to this venture.  It is entirely possible that you could lose the lot if you're not careful.  You are advised to read, watch, and learn as much as you possibly can about Forex Trading before committing any actual money.  And never, ever, ever speculate with any money you can not afford to lose.
While we're on the subject…
We at Third Millennium Man are so enthused by Forex Trading, that we currently have our very own Forex Instructional Course in development.  There will be more about this course in due course, of course – however we can confidently say that as far as we're aware, nobody else does a course quite like this.  This course is going to be the most clear, intelligent, and factually accurate course you can get – and with a UK bias instead of an American one.  We'll keep you posted (you can register your interest through the Contact Us page if you like); it is going to be worth the wait….
 
Courier Service.
Ah, life on the open road.  You can keep your office – there's nothing like tanning your right elbow as you drive along Her Majesty's highways observing the changing seasons.  Stick on some banging tunes (though the more sophisticated Third Millennium Man might prefer to enjoy some beneficial Talking Books) and you're all set for a day at work.  So how would you do that from a mobile phone?
Let's use Dave as an example.  Dave leases a white 'courier'-sized van from a local dealer for £199 a month.  He pays for his diesel with a cashback credit card.  He works for an Agency three days a week, who give him long-haul jobs, such as taking a parcel from London to Leeds, and pay him so much per mile for the round trip.  His mobile phone is on his dashboard at all times, running a SatNav App.  When the phone rings, his van has built-in hands-free speech using a Bluetooth link.  And when he's stuck in traffic, he can use the phone to do his emails, banking and playing Angry Birds.
Les is exactly the same, only he uses a tablet.  Les used to work for a defence contractor until he was made redundant; he then spent his redundancy money on a van, and uses the Security Clearance from his former employer to charge extra for transporting sensitive items.  Sometimes he has to carry items to mainland Europe, which necessitates a few overnight stays.   Naturally, Les has plenty of stuff on his tablet to keep him entertained on his travels.  Les doesn't let on how much he earns just from doing his sensitive, Security-Cleared jobs, but we'd guess it's in the region of £50,000 – £60,000 per annum: working four days a week, forty weeks a year.
And then there's Sean, who specialises in transporting medical bits and pieces such as live organs or test samples.  He often picks up jobs at 2am and runs them down to London hospitals, meaning that he's already on his way out of London when the rest of us are queuing up on the roads, trying to get into it.  When you're taking your mid-morning coffee break, Sean's already done for the day and is probably on the golf course.
Using your mobile phone or tablet will save you having to carry around a separate SatNav.  You can power it from the lighter socket, and use it to run a whole host of Apps, including your playlist.  It sounds pretty stress-free, doesn't it?  Remember this one, the next time your boss is on your back…..
Vlogging.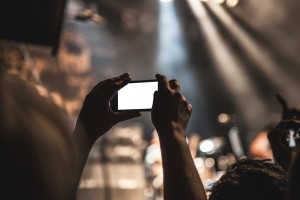 Right.  For the older Third Millennium Men among us, this word is short for 'video blogging'.  Essentially, that's making videos on a subject, posting them on YouTube, and getting a share of any advertising revenue.  It sounds simple enough, doesn't it?
There are guys, young upstarts, making videos of themselves larking around with their mates, and earning serious money.  They are having a whale of a time, and earning a heck of a lot more money than you.  How much money does it cost to set up this particular business?  Assuming that you already have your mobile phone – absolutely nothing.
Here's the downside.  You will not, repeat, NOT, post your first video on Monday and be able to retire on the proceeds by Friday.  It doesn't work like that.  In fact, you're unlikely to earn enough to pay your mobile phone contract each month, let alone your rent, for at least a couple of years.  It's the sort of business you'd be in because you love it, not purely for the money.
What would you make videos of?  Something that you love.  Some guys record their own series of guitar-playing lessons.  One gent we know shows how to pick padlocks.  Another makes videos of basic motorcycle servicing.  Teenagers are making their own videos of hair & skin care advice.  YouTube is the second most-visited website in the entire World, and whatever subject you can think of, there's likely to be a video of it.
What does it take to make a video?  Just a mobile phone (or tablet) with a camera – which is probably ALL of them nowadays – and the means to hold it steady.  That can be a willing volunteer, or even a tripod.  We at Third Millennium Man are bowled over by this baby which was purchased recently at a High Street store for (gasp) ONE POUND.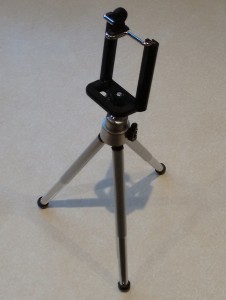 And that's it.  That's all the hardware you need.  The only other thing you need is an idea; better still, a series of ideas.  Join YouTube.  Start your own channel.  Record a whole load of videos (don't go recording just one and then moan how you're not making any money) and do your damnedest to establish a following.  Someone's commented on your video?  Reply to the comment and get a conversation going.
It doesn't end with just Advertising income.  Through the magic that is Affiliate Advertising it is possible to make recommendations of products, and get paid if it translates into a sale.  An enterprising individual of our acquaintance has a growing series of poker lesson videos.  For every viewer that clicks on the link given at the end of the video and opens an account at that particular online casino, he gets £85 (we asked him which paid more; the videos, or actually playing poker.  He asked if we had ever bothered to watch any of his videos.)
It's a slow-burner.  The chances of you retiring abroad solely on the proceeds are indeed slim.  But if you're looking for a stress-free, zero-cost business idea, or a new cost-free hobby that you can just pick up and do every once in a while, or maybe just a fun way to play with your new mobile phone, then this idea may be for you.

Professional Gambler.
Can gambling become a business?  Read on and see what you think.
Practically every Bookmaker these days has their own website.  And if they have a website then they probably have an App for your phone (or you can visit the website through your browser).  Join, deposit some stake money, and you're in.
Can I just take this opportunity to repeat what was said earlier?  That bit about how you should never bet with money you need and can't afford to lose?  And about how Third Millennium Man is not, and cannot be expected to be, liable for any losses you experience?  If you decide to do this, and if you lose your shirt, then it's your responsibility.  Every business carries an element of risk.  Third Millennium Man doesn't assume entitlement to a share of your winnings, so it's only fair that we aren't responsible for your losses.
Right.  Now that's out of the way, let's establish a way forward.  Forget your football team allegiance.  This is a business, right?  So treat it like one.  Run it as a business.  And that means establishing and writing a Business Plan, and sticking to it.
If you've written a Business Plan before, then this bit should be a doddle.  If not, you're basically writing down the rules of how you're going to operate.  Think of things like;
How much stake money you're going to deposit in the first instance.
What sport(s) you are going to bet money on.
The nature of your betting strategy; To Win or Each Way, Spread Betting, Accumulators, conditional bets, backing favourites, that kind of thing.  Are there any conditions where you would not place a bet?
Information sources.  Are you gambling on gut instinct?  Or are you privvy to special information?
The size of bets.
Targets: how much do you expect to earn, over what period?
Cashflow: are you going to withdraw your winnings?  How much will you withdraw, and how much will you retain as 'operational capital'?
Exit strategy: how much are you prepared to lose before calling it a day?
As you work down this list, I'm sure you can think of other questions to add to these.  When you're done, imagine a friend had written this Business Plan and wanted you to read it and give an honest opinion.  If you think it's a pile of junk and he's being an idiot, you probably need to head back to the drawing board.  A Bank won't commit money to a badly thought-out Business Plan, and neither should you.
Get it right, and you could be joining the Professional Gamblers who earn a really good living.  One such Third Millennium Man lives in Spain, and backs the horses.  He checks the runners, riders and the form in his English newspaper over breakfast by the pool, and places his bets for the day through his phone.  That evening he checks the results before he retires, and banks his winnings online.  It sounds idyllic – although an invitation from him over to Spain now and then would be nice….
Be prepared for emotional highs and lows if you choose this path.  It isn't for everyone.

Reporter.
Have you ever wondered how News crews always seem to be in the right place at the right time for an outside broadcast?  Sometimes that crew is just the reporter himself.  With his mobile phone at the end of a Selfie Stick (or a tripod as we've already mentioned) all the Reporter needs is a decent backdrop behind him, and he's all set.  A BAFTA could be on it's way.
Okay, so it's not exactly an easy business to get into.  But that's how they do it.  Why not take this idea…..play with it and change it a little…..and see what you can come up with?  Stand on the shoulders of giants, and you can see a lot further.
Webmaster
Can I just remind you of our initial remit, right at the start of this article?  We're talking about businesses you can RUN from a mobile phone.  If you're a Webmaster, you'll already know that the design and setting up of a website has to be done from a computer or laptop.  So what can be done from a mobile phone?
Assuming that your website is running WordPress (and something like one quarter of the entire Internet is running WordPress) then you can make tweaks through the WordPress App.  It's possible to make adjustments to your PlugIns, pages, and all the other bits and pieces you can access through the Dashboard.
If your website derives its income through Advertising (Google Adsense for example, or Affiliate Advertising) then tweaks can be made to maximise eficiency.  You can see how effective your website's exposure has been, through a Google Analytics App or something similar.  You can even write new Posts on your mobile phone or tablet in a wordprocessing App if you have one.  When you've spellchecked it, you can email it to your website, and the new Post will automatically be added.  That's got to be a boon for Travel Blogs, hasn't it?  Which leads us to…
Travel Photographer.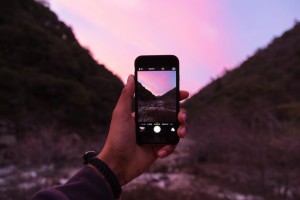 A late friend of ours had what might be the World's best job.  He wrote Lonely Planet guides.  The man in charge would get in touch and say (for example) that the Lonely Guide to Athens needs updating; he would then jump on a plane and head out there for a few weeks.  Every restaurant, every hotel, every theme park or museum counts as a legitimate business expense.  He would write it all up on his MacBook, and add his own photographs (and get what they would pay a Photographer, on top of his own fee).  In the end he got fed up lumping so much gear around, and did it all on his mobile phone.
We are aware of many photographers who use just their phones.  With many high-end phones how boasting 18 megaPixel cameras and breathtaking photo-editing Apps, who can blame them?  The paparazzi how seem to use mobile phones as much as DSLR cameras with foot-long zoom lenses.  Ask any professional photographer; it isn't so much about the gear you use to take your photographs, it's how you take them.  Technique is all.  Take a look through the photographs in tomorrow's newspaper – a great many of them will have been taken with just a mobile phone.
Again, it's a bit of a hard business to get into.  It's not just about taking the picture, it's about being able to find a buyer for it and getting the right price.  And that's going to be the topic of a future Post the Third Millennium Man….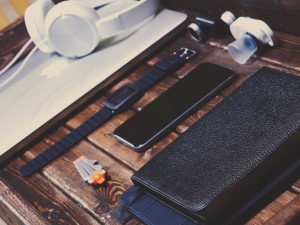 Which mobile phone?
By now, you're probably wondering if your mobile phone is good enough to run a business from?  It's okay for Facebook, Snapchat and a few games, but would you really entrust your livelihood to it?  Is there a better phone from which you could run a business?
May I take this opportunity to recommend the current
Third Millennium Man
favourite, the
Cubot H1
It has a facility for a dual-SIM should you need to take it abroad.
You can remove the battery.  Which means that you can buy spares and take them on your journey with you, should recharging opportunities be an issue.
The camera is absolutely amazing.  Plus there's no shortage of Apps to enhance your photos still further.
There's a whole load of SatNav Apps available, free of charge, to cover Europe and the UK.
It has a 5.5″ screen.  That's not only useful for when you Skype the folks back home, but also for reading eBooks and .PDFs with the Kindle App, or watching all the movies and cartoons you've stored on your 32GB memory card (ever been stuck in a hotel room with just

Indonesian

television for company?) or maybe watch some training videos (we like the ones from Lynda.com).
It's got all the processing power and all the memory you'll ever need, even without the memory card.  It is, when it comes down to it, an absolutely fantastic phone.
It's cheap.  We've worked it out to be around one-sixth to one-tenth of the price of that new iPhone you've been drooling over.  And it's just a shiny.
Conclusion.
Ah, isn't technology marvellous?  And we've barely scratched the surface of what's possible.  There are some businesses that we haven't had space or the time to mention.  Apologies if we've left anyone out.  Stay posted for Part 2!
We hope you've enjoyed this article – you'll look at your mobile phone in a different light from now on.  Maybe you can justify that upgrade after all…..
Do YOU earn your living with your mobile phone or tablet?  Why not drop us a Comment and tell us all about it?  Constructive criticism is always welcome, while SPAM is not.